FRANK's GREAT PRAGUE ADVENTURE
<![if !supportEmptyParas]>

Originally written on 27-Jun-00

[Home] [Up] [Welcome To Prague] [Marlene Visits] [Set Night] [Love Page]

<![if !supportEmptyParas]> <![endif]>"Filming Begins"

Production of "From Hell" has begun. That means we started working long days. We are filming 6 day a week. The workday averages about 14 hours.

<![if !supportEmptyParas]> <![endif]>Let's meet some of the people involved with the film.

<![if !supportEmptyParas]> <![endif]>

<![if !supportEmptyParas]> <![endif]>Sound equipment in foreground while Robbie Coltrane sips coffee as Heather Graham and Johnny Depp wait

<![if !supportEmptyParas]> <![endif]>
| | |
| --- | --- |
| | |
| Albert and Allen Hughes, Our Directors | Warren With Robert Dufek, Our Czech Cableman |
Frank improvises shelter from the rain
<![if !supportEmptyParas]> <![endif]>
| | |
| --- | --- |
| | |
| Frankielob at work | Susan Weberg arrives in Prague for the duration |
We began filming on locations that were either in Prague or within an hour's drive. Now we have moved onto our "back lot" set. The Art Department built a replica of the White Chapel section of East London, as it would have appeared in 1888. The set is quite amazing. We will be filming there for at least a month.
<![if !supportEmptyParas]> <![endif]>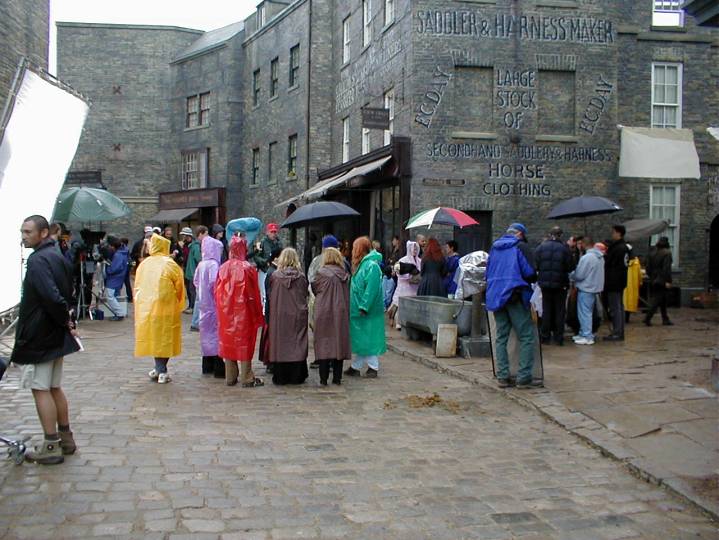 Whitechapel Set
| | |
| --- | --- |
| | |
| Allen Lines Up A Shot While Peter Deming, DP And John Ward, Steadicam Look On | Allen Covers Sound While Frank Visits The WC |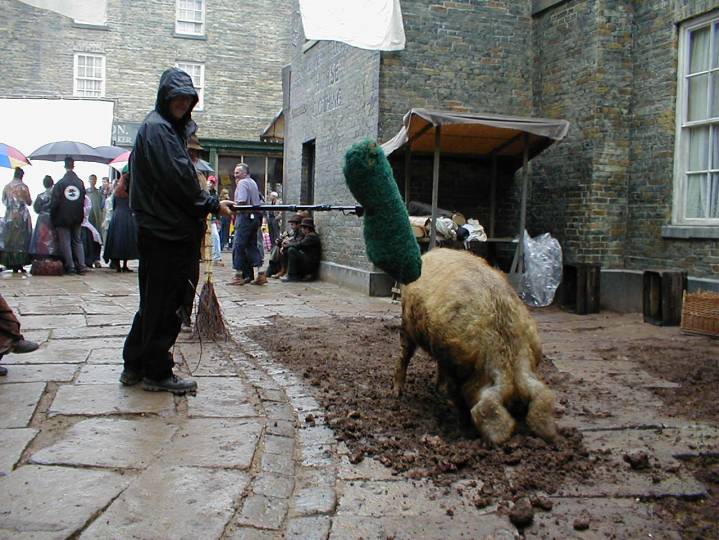 Warren Shows Hogshair Rain Protector To The Real Thing (We boar you no further)
We have just begun 6 weeks of night shooting. Staying up all night is one of my least favorite things to do. However, the set looks lovely when lit for night work. I will try to have some photos from the night time on a future page.
Meanwhile, I'll leave you with a question.
| | |
| --- | --- |
| How Many Prague Grips Does It Take To Move A Dolly Track? | Answer: As Many As They Can Find At The Moment |
| | |