Ghosts Of Christmas Past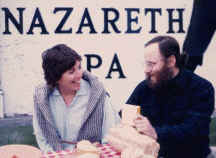 Marlene and Frank in 1986
Frank began sending Christmas cards in 1970. The cards have always consisted of a photo with a pun. The first 12 cards were in black and white.
As Frank and Marlene's relationship grew, the cards began to change. In 1983 he allowed her to take the picture. She made her first appearance in 1984. Then they got married.
We have arranged the cards for you by decade. Please click on the links below for the decade that you wish to see.